<!—Service Explorer Header Code -->
When it comes to chest pain, time is muscle. At Centerpoint Medical Center, we consistently provide excellent emergency care and we'll show you the numbers to prove it.
Each hospital throughout the U.S. is scored based on the core measures established by the Centers of Medicare & Medicaid Services (CMS) that show how well a team delivers the recommended care for a number of conditions. One of these scores is door-to-balloon time. Door-to-balloon time is a main indicator of the hospital's response to heart attacks. Recommendations from the American College of Cardiology and the American Heart Association suggest that door-to-balloon time be no greater than 90 minutes, measured from when a patient arrives at a hospital ("the door") with symptoms of a heart attack to when a cardiologist inflates a balloon through a catheter in the heart ("the balloon"), opening the blockage that is damaging the heart muscle. Improving blood circulation through the heart as quickly as possible is critical to minimizing the damage done to the heart during a heart attack.
Centerpoint Medical Center is part of Midwest Heart Care accredited chest pain center network. These hospitals consistently deliver the fastest door-to-balloon times in the Kansas City area.
Achievements
2015 General Thoracic Surgery 3-Star Quality Rating
The Society of Thoracic Surgeons has a comprehensive rating system that allows for comparisons regarding the quality of cardiac surgery among hospitals across the country. Approximately 10% of hospitals receive the "3 star" rating, which denotes the highest category of quality. In the current analysis of national data covering the period from January, 2015 through December, 2015, the cardiac surgery performance of our hospital was found to lie in the highest quality tier, thereby receiving an STS 3 star rating.
2018 ACTION Registry®–GWTG™ Platinum Performance Achievement
To receive the ACTION Registry–GWTG Platinum Performance Achievement Award, this hospital consistently followed the treatment guidelines in the ACTION Registry–GWTG Premier for eight consecutive quarters and met a performance standard of 90% for specific performance measures. ACTION Registry-GWTG empowers health care provider teams to consistently treat heart attack patients according to the most current, science-based guidelines and establishes a national standard for understanding and improving the quality, safety and outcomes of care provided for patients with coronary artery disease, specifically high-risk heart attack patients.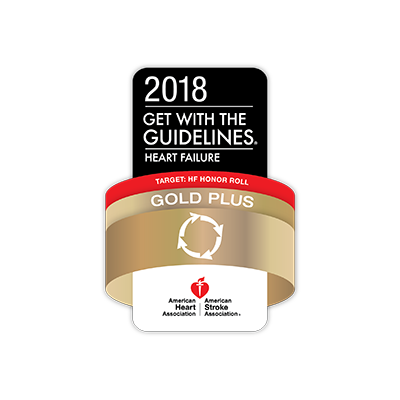 2018 Get With The Guidelines® Heart Failure - Gold Plus Honor Roll
The American Heart Association recognizes this hospital for achieving 85% or higher compliance with all Get With The Guidelines® Heart Failure Achievement Measures and 75% or higher compliance with four or more Get With The Guidelines Heart Failure Quality Measures for two or more consecutive years and for documentation of all three Target: Heart Failure℠ care components for 50% or more of eligible patients with hear failure discharged from the hospital to improve quality of patient care.
Accreditations and Certifications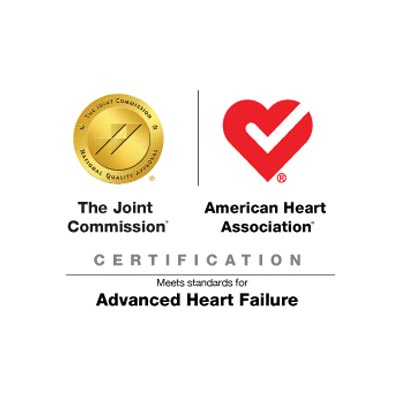 Advanced Certification in Heart Failure
The Joint Commission has developed an advanced level of certification for programs that must meet the requirements for Disease-Specific Care Certification plus additional, clinically-specific requirements and expectations. This certification improves the quality of care provided to patients, demonstrates commitment to a higher standard of service, provides a framework for organizational structure and management, provides a competitive edge in the marketplace, enhances staff recruitment and development and is recognized by insurers and other third parties.
Certified Cardiac Rehabilitation Program
The American Association of Cardiovascular and Pulmonary Rehabilitation (AACVPR) certification demonstrates that this hospital's program is aligned with current guidelines as approved by the AACVPR for the appropriate and effective early outpatient care of patients with cardiac or pulmonary issues. Certified AACVPR programs are recognized as leaders in the field of cardiovascular and pulmonary rehabilitation because they offer the most advanced practices available.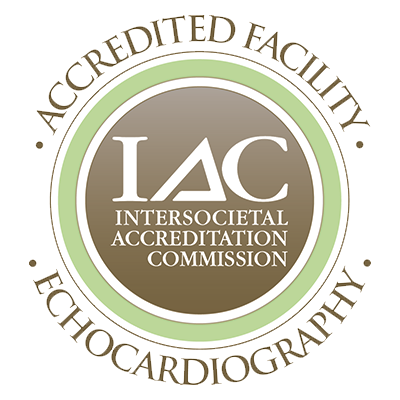 Echocardiography Accreditation
Accreditation by the Intersocietal Accreditation Commission (IAC) means that this hospital has undergone a thorough review of its operational and technical components by a panel of experts. The IAC grants accreditation only to those facilities that are found to be providing quality patient care, in compliance with national standards through a comprehensive application process including detailed case study review. IAC accreditation is a "seal of approval" that patients can rely on as an indication that the facility has been carefully critiqued on all aspects of its operations considered relevant by medical experts in the field of Echocardiography.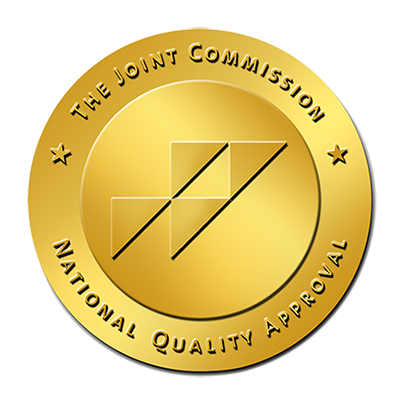 The Joint Commission National Quality Approval
This hospital has earned The Joint Commission's Gold Seal of Approval® for accreditation by demonstrating compliance with The Joint Commission's national standards for health care quality and safety in hospitals. The accreditation award recognizes this hospital's dedication to continuous compliance with The Joint Commission's state-of-the-art standards.